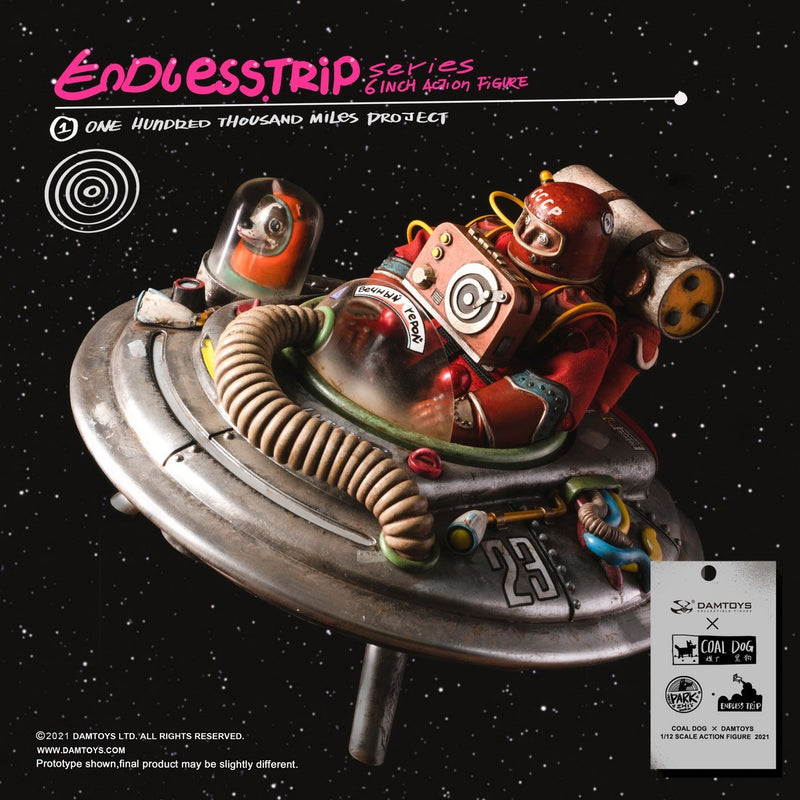 DamToys Coal Dog Endlesstrip Series Action Figure 1/12 Scale One Hundred Thousand Miles Project
Endless Trip is an original figure series between Damtoys and Coal Dog about dreams, skies, and odysseys. This series includes a wide array of characters who all want to realize their dreams and the next up is One Hundred Thousand Miles.
This set features Rov and his dog Laika who have been flying through space in the Silver Barracuda 23 for many, many years. Their mission is to explore the boundaries of the universe. The One Hundred Thousand Miles set is highly detailed and includes a variety of accessories for creating unique, customized scenes.
This One Hundred Thousand Miles Project is based on the cosmonaut Vladimir Komarov of the Soviet Union and the space dog Laika.
Don't miss your chance to add this unique set to your collection!
UK Shipping
Shipping is free to the UK mainland on orders of £50 and over once discounts, coupons, ID Points have been deducted. Under £50 orders are from £2.95 in the UK. Shipping is a flat rate regardless of order size. All of our products are shipped from the UK. Tracked 48 and Tracked 24 are shipped via Royal Mail. The time scale is not guaranteed but usually is 2-3 days for Tracked 48 and 1-2 days for Tracked 48. UK Expedited option is by Parcel Force, they collect Monday to Friday and deliver on Monday to Fridays ONLY so if Expedited is selected for a Friday it would not arrive until Monday, so we may alter this to Tracked 24 to get to you faster. Royal Mail cut off time for same day dispatch is 2pm, however on busy days we can not guarantee an item goes out the same day. Parcel Force cut off time is 1.30pm.
International Shipping Rates:-
Austria, Czech Republic, Denmark, Finland, Hungary, Norway, Switzerland £25 Belguim, Luxemberg £15 Bulgaria, Croatia, Estonia, Latvia £33 France, (Republic Of) Ireland £18 Germany, Netherlands £13 Greece, Romania £42 Italy £21 Malta £60 Poland, Portugal, Sweden £30 Spain £28 USA from £17 (Increases with order size) Shipping times are based on when the item is dispatched, not from the time of the order. We cannot guarantee an item will ship the same day even when an expedited option is chosen based on current workload. Every package is insured for up to £150.
Pre-Orders
Pre-Orders are now dealt with differently to the older website. If a 10% deposit is paid you will receive an email when the item is due with a link to pay which will take you to your account to pay, and floating link will appear on your account once logged in to remind you there is pending payments. Shipping is paid when a balance is paid.
Returns
We offer a no quibble 30 day return policy on unwanted but unopened items. This is returned at your own cost. If you have any damaged or faulty products (not including packaging) please contact us so we can resolve any issues for you. These need to be reported within 3 days of the item being delivered though. We cannot guarantee items arrive with undamaged boxes, but we never send anything out damaged. If you have received an incorrect item get in touch for a free return