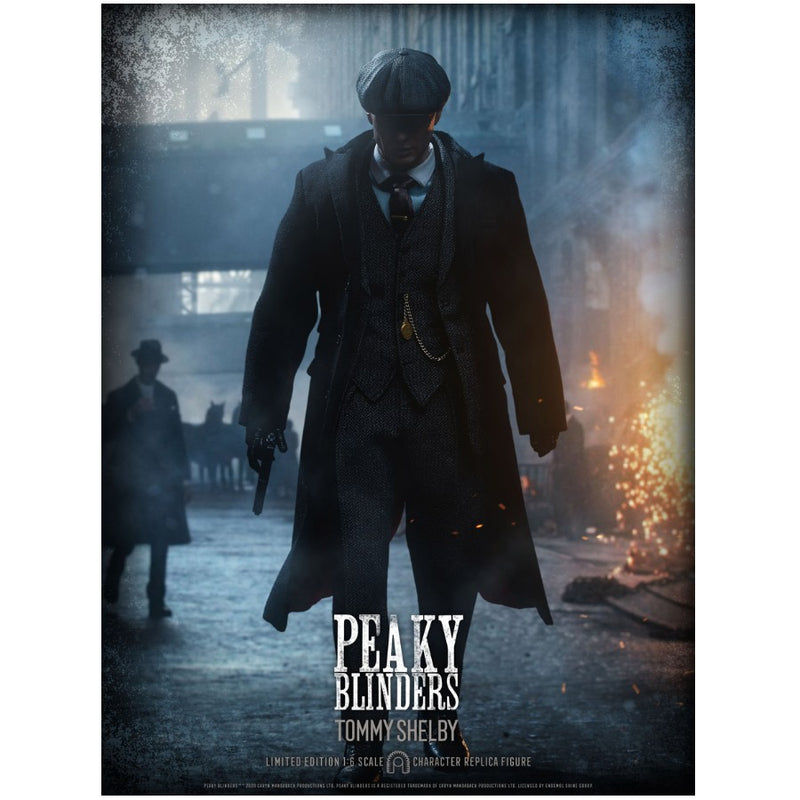 Peaky Blinders Thomas Selby 1/6 Figure
In stock
Big Chief Studios
Thomas Michael Shelby is the leader of the Birmingham criminal gang, the Peaky Blinders and the patriarch of the Shelby Family. After serving in World War I with the rank of Sergeant Major, Tommy was decorated for bravery. His experiences during the War left him disillusioned and plagued by ongoing nightmares. Determined to move his family up in the world, Thomas Shelby became a Member of Parliament as a socialist politician while lending the chair of the illegal business to his older brother, Arthur. Criminal entrepreneur, legitimate bookmaker, captain of industry, and now member of parliament, Tommy Shelby's rise through British society has been astronomic.
BIG Chief Studios in association with Endemol Shine under license from Caryn Mandabach Productions are proud to bring you the first in a series of collectable figures from the award-winning Peaky Blinders series. Outfitted in a stunning hand-tailored costume, Tommy Shelby comes breathtakingly to life from under the shadow of the peak of his trademark cap. Join the gang today by order of the Peaky Blinders.
What's in the Box
1 x Tommy Shelby Portrait Head featuring Authentic Likeness of Cillian Murphy
1 x Anatomix Male Body (Standard) with over 30 Points of Articulation
1 x Black Heavy Overcoat with Peaked Lapels
1 x Grey Tweed Effect Single-breasted Suit Jacket
1 x Gray Tweed Effect Waistcoat
1 x Pair of Grey Tweed Effect Trousers
1 x Pair of Braces
1 x Pale Blue Shirt with White Penny Collar
1 x Printed Pattern Tie
1 x Shoulder Holster
1 x Pair of Gentleman's Boots
4 x Interchangeable Gloved Hands
6 x Interchangeable Hands
1 x News Boy Cap (Moulded)
1 x News Boy Cap (Fabric)
1 x .45 Semi-automatic Pistol
1 x Submachine Gun with Magazine.
1 x Fob Watch with Chain and Ingot.
1 x Pair of Glasses
1 x Lit Cigarette
1 x Unlit cigarette.
1 x Fitted Cigarette for Mouth
1 x Cigarette Case (Open)
1 x Cigarette Case (Closed)
1 x Cigarette Lighter
1 x Tumbler with Whiskey
1 x Shelby Gin Bottle
UK Shipping
Shipping is free to the UK mainland on orders of £50 and over once discounts, coupons, ID Points have been deducted. Under £50 orders are from £2.95 in the UK. Shipping is a flat rate regardless of order size. All of our products are shipped from the UK. Tracked 48 and Tracked 24 are shipped via Royal Mail. The time scale is not guaranteed but usually is 2-3 days for Tracked 48 and 1-2 days for Tracked 48. UK Expedited option is by Parcel Force, they collect Monday to Friday and deliver on Monday to Fridays ONLY so if Expedited is selected for a Friday it would not arrive until Monday, so we may alter this to Tracked 24 to get to you faster. Royal Mail cut off time for same day dispatch is 2pm, however on busy days we can not guarantee an item goes out the same day. Parcel Force cut off time is 1.30pm.
International Shipping Rates:-
Austria, Czech Republic, Denmark, Finland, Hungary, Norway, Switzerland £25 Belguim, Luxemberg £15 Bulgaria, Croatia, Estonia, Latvia £33 France, (Republic Of) Ireland £18 Germany, Netherlands £13 Greece, Romania £42 Italy £21 Malta £60 Poland, Portugal, Sweden £30 Spain £28 USA from £17 (Increases with order size) Shipping times are based on when the item is dispatched, not from the time of the order. We cannot guarantee an item will ship the same day even when an expedited option is chosen based on current workload. Every package is insured for up to £150.
Pre-Orders
Pre-Orders are now dealt with differently to the older website. If a 10% deposit is paid you will receive an email when the item is due with a link to pay which will take you to your account to pay, and floating link will appear on your account once logged in to remind you there is pending payments. Shipping is paid when a balance is paid.
Returns
We offer a no quibble 30 day return policy on unwanted but unopened items. This is returned at your own cost. If you have any damaged or faulty products (not including packaging) please contact us so we can resolve any issues for you. These need to be reported within 3 days of the item being delivered though. We cannot guarantee items arrive with undamaged boxes, but we never send anything out damaged. If you have received an incorrect item get in touch for a free return